Posts for: December, 2017
By Steven F. Hinchey, DMD
December 19, 2017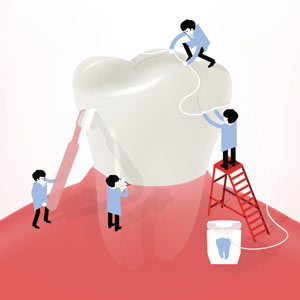 The human body's immune system has amazing defensive capabilities. Without it a common cold or small wound could turn deadly.
One of the more important processes of the immune system is inflammation, the body's ability to isolate diseased or injured tissue from unaffected tissue. Ironically, though, this vital component of the healing process could actually cause harm if it becomes chronic.
This often happens with periodontal (gum) disease, an infection of the gums caused by bacterial plaque built up on teeth due to inadequate hygiene, which in turn triggers inflammation. The infection is often fueled by plaque, however, and can become difficult for the body to overcome on its own. A kind of trench warfare sets in between the body and the infection, resulting in continuing inflammation that can damage gum tissues. Untreated, the damage may eventually lead to tooth and bone loss.
In treating gum disease, our main goal is to stop the infection (and hence the inflammation) by aggressively removing plaque and calculus (tartar). Without plaque the infection diminishes, the inflammation subsides and the gums can begin to heal. This reduces the danger to teeth and bone and hopefully averts their loss.
But there's another benefit of this treatment that could impact other inflammatory conditions in the body. Because all the body's organic systems are interrelated, what occurs in one part affects another especially if it involves inflammation.
It's now theorized that reducing gum inflammation could lessen inflammation in other parts of the body. Likewise, treating other conditions like high blood pressure and other risk factors for inflammatory diseases could lower your risk of gum disease and boost the effectiveness of treatment.
The real key is to improve and maintain your overall health, including your teeth and gums. Practice daily brushing and flossing to remove plaque, and visit your dentist regularly for more thorough cleanings. And see your dentist at the first sign of possible gum problems like bleeding, redness or swelling. You'll not only be helping your mouth you could also be helping the rest of your body enjoy better health.
If you would like more information on the relationship between gum disease and other systemic conditions, please contact us or schedule an appointment for a consultation. You can also learn more about this topic by reading the Dear Doctor magazine article "The Link between Heart & Gum Diseases."
By Steven F. Hinchey, DMD
December 04, 2017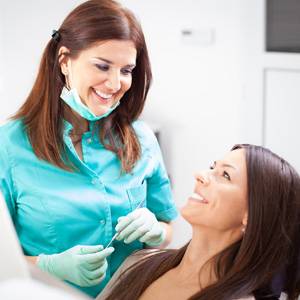 While it may not be one of your favorite features in the dental office, the dental drill is nevertheless necessary for treating problem teeth. It's used primarily for removing decayed or damaged structure and preparing a tooth for fillings or other restorations.
Dental drills have been used for decades and are quite effective — but they have their drawbacks. Their rotating burrs often remove portions of healthy tooth structure along with decayed material. Friction from the drill action can cause discomfort, so local anesthesia is usually needed. Drills can also emit a high-pitched machine noise that's unsettling to many patients.
There's a growing alternative to the drill, known as air abrasion. Although the technology has been around since the 1950s, the development of new suction pumps that capture the resulting dust from its use has made it more palatable as an option to the traditional drill.
Also known as particle abrasion, the technique uses a pressurized stream of fine particles (usually aluminum oxide, an abrasive powder) directed at teeth to wear away (abrade) the tooth's structural surface. We can be quite precise in the amount of surface material removed, so it's useful for diminishing stains or roughing the surface for bonding materials like composite resin. We're also able to remove decayed material with very little impact on surrounding healthy structure, and you may not need anesthesia during the procedure.
While this quiet alternative to the noisier drill is quite versatile, it does have its limitations. It's not that efficient for preparing larger cavities for restoration or for removing older amalgam fillings. The teeth to be treated must be carefully isolated to prevent the fine particle dust produced from being swallowed by the patient or spread into the air. High-volume suction equipment is a must or the procedure will create a "sandstorm" of particles in the room.
Still, for situations suited to it and with proper isolation measures, air abrasion can be effective and comfortable. If the technology continues to improve, the dental drill may soon become a relic of the past.
If you would like more information on procedures using air abrasion, please contact us or schedule an appointment for a consultation. You can also learn more about this topic by reading the Dear Doctor magazine article "Air Abrasion Technology."