Posts for tag: orthodontic treatment
By Steven F. Hinchey, DMD
December 07, 2018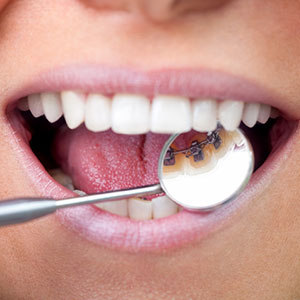 We're all familiar with tried and true traditional braces and perhaps with newer clear aligners for realigning teeth. But there's an even more novel way that's quickly becoming popular: lingual braces.
This type of braces performs the same function as the traditional but in an opposite way. Rather than bonded to the front of the teeth like labial ("lip-side") braces, these are bonded to the back of the teeth on the tongue (or "lingual") side. While labial braces move teeth by applying pressure through "pushing," lingual braces "pull" the teeth to where they need to be.
Although lingual braces are no better or worse than other orthodontic methods, they do have some advantages if you're involved in sports or similar physical activities where mouth contact with traditional braces could cause lip or gum damage, or if your work or lifestyle includes frequent snacking or eating, which requires continually removing clear aligners. And like aligners, lingual braces aren't noticeable to the outside world.
But lingual braces typically cost more: as much as 15-35% more than traditional braces. They can initially be uncomfortable for patients as the tongue makes contact with the hardware. While most patients acclimate to this, some don't. And like traditional braces, it's hard to effectively brush and floss your teeth while wearing them. This can be overcome, though, by using a water flosser and scheduling more frequent dental cleanings while you're wearing them.
For the most part, lingual braces can correct any poor bite (malocclusion) correctable with labial braces. The treatment time is also comparable, ranging from several weeks to a couple of years depending on the malocclusion. And, as with any other orthodontic method, you'll need to wear a retainer once they're removed.
Lingual braces have only been available in a limited fashion for a few years, but their availability is growing as more orthodontists train in the new method. If you're interested in the lingual braces approach, talk to your orthodontist or visit www.lingualbraces.org to learn more.
If you would like more information on lingual braces, please contact us or schedule an appointment for a consultation. You can also learn more about this topic by reading the Dear Doctor magazine article "Lingual Braces: A Truly Invisible Way to Straighten Teeth."
By Steven F. Hinchey, DMD
August 09, 2018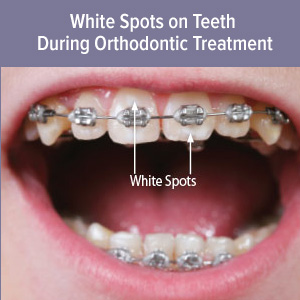 When your braces finally come off, you'll hopefully be astounded by what you see –once-crooked teeth replaced by a more attractive smile. But you might also see something you didn't expect: noticeable white spots on some of your teeth.
These spots called white spot lesions (WSLs) appear lighter than the surrounding tooth enamel due to mineral loss just beneath the surface. This happens because bacterial or food acids have contacted the enamel surface for too long and dissolved the underlying calcium and other minerals. This results in a small discolored and chalky-like area in the enamel.
WSLs are common during orthodontics because wires and brackets create hard to reach places for brushing and flossing, which can accumulate bacterial plaque. The bacteria produce acid, which weakens the enamel at these places. The tiny white spots that result are more than just unattractive—they can become entry points into the tooth for decay. That's why they should be dealt with as soon as possible—and preferably before they're created.
To that end, you'll need to do as thorough a job as possible brushing and flossing while undergoing orthodontic treatment. To improve your thoroughness try using an interproximal toothbrush that can maneuver more closely around braces hardware than a regular brush. You can also improve your flossing with a floss threader or a water flosser, a device that sprays pressurized water to loosen and flush away plaque.
If you do develop WSLs, there are some things we can do to treat them. We can attempt to re-mineralize the affected enamel with the help of topical fluoride (either pastes or gels for home use or with an office application) or a re-mineralizing agent. We can also use techniques like microabrasion, which restores damaged areas beneath the surface, or inject a liquid, tooth-colored resin beneath the WSL's surface to improve appearance and protect against decay.
If while wearing braces you do notice any white spots or other tooth discoloration let your dentist or orthodontist know right away. The sooner your dental providers can begin dealing with potential WSLs the better your chances for a healthy and beautiful outcome after braces.
If you would like more information on oral hygiene while wearing braces, please contact us or schedule an appointment for a consultation. You can also learn more about this topic by reading the Dear Doctor magazine article "White Spots on Teeth During Orthodontic Treatment."
By Steven F. Hinchey, DMD
May 22, 2017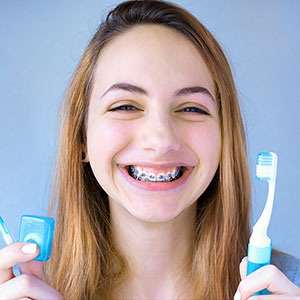 Wearing braces is all about the future: you undergo many months of treatment to gain a lifetime of better mouth function and a more attractive smile.
In the meantime, though, you'll have to deal with a few new realities during treatment: restrictions on foods, limitations with mouth function, and (perhaps) embarrassment over your new "metallic" smile.
There's one reality, though, that trumps all others in importance: your risk for developing dental disease increases significantly during orthodontic treatment. The brackets and wires of your braces make it more difficult to remove bacterial plaque, the main cause of dental disease, which allows places for disease-causing bacteria to thrive. To combat this, you'll need to step up your hygiene efforts to remove daily plaque.
One sign your efforts might not be getting the job done is red, swollen or bleeding gums. Although gums can swell in reaction to the braces themselves, it's often because plaque-induced periodontal (gum) disease has infected the gum tissues.
Gum disease is an aggressive infection. If it isn't stopped it can damage the gums and underlying bone that support your teeth — damage that could eventually lead to tooth loss. To stop it, we must remove plaque from all tooth and gum surfaces, even below the gum line. In some advanced cases it may even be necessary to remove the braces to better treat the disease.
That's why preventing gum disease through effective hygiene is so important. Besides continuing routine visits with your family dentist, you should also brush and floss every day to remove plaque. Be sure you're brushing above and below the braces. It may be helpful to use an interproximal brush specifically designed to maneuver around these tight spaces. You can also use a floss threader or a water irrigator to make the job of flossing easier.
If you do notice gum redness, swelling or bleeding, don't delay — call your dentist at once. An examination will determine if you have gum disease and to what degree, which will guide treatment. The sooner this happens, the less the impact on your dental health and your orthodontic treatment.
If you would like more information on dental care while wearing braces, please contact us or schedule an appointment for a consultation. You can also learn more about this topic by reading the Dear Doctor magazine article "Gum Swelling During Orthodontics."